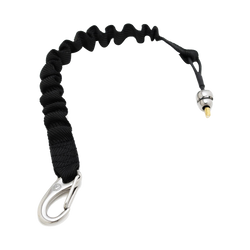 Keyball Lanyard - Helite - حبل السترة المطاطي
The lanyard, supplied with your airbag, connects the airbag to the saddle strap. 
The lanyard is directly connected to the piston that will activate the gas cartridge in case of a fall.
It is already installed and ready to use when you receive your airbag.
Simply attach the carabiner to the saddle strap to install it.
A carabiner and a key-ball are located at each end of the lanyard. The key-ball is positioned on the firing pin and keeps the mechanical system energized. When you are on your horse, the carabiner must be hooked to the metal ring of the saddle strap. 
CAUTION, we recommend that you do not attach the carabiner directly to any part of your saddle as it may not be strong enough in case of a fall. Also make sure that your lanyard cannot wrap around any part of the saddle
This product is not eligible for a return.
Shipping Inside KSA
We provide standard shipping to all cities in Saudi Arabia through locally operating courier companies.
Shipping Fee
Enjoy FREE SHIPPING inside Saudi Arabia for all orders above SR150 !
Shipping fee of SR25 may apply to orders below SR150.
Delivery Time
Delivery time for orders is typically between 1-3 working days after shipment on normal days, and it may reach 10 working days during seasons.
Please allow for max 1-2 days for your order to be processed. Orders are not shipped or delivered on weekends or holidays.
Tracking Number
You will always be provided with a Tracking no. so you can track your order every step of the way.
International Shipping
Our valued customers, we would love to serve you! But international shipping services is currently unavailable.